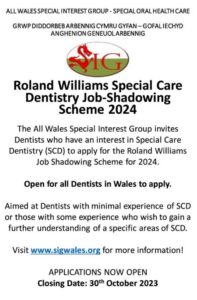 Study Day 2023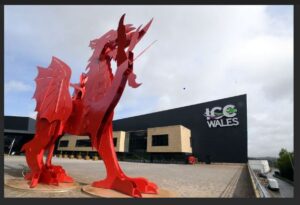 This  coming October  there will be no SIG study day in Llandrindod Wells, as the BDA Community Dental Service Group, is holding its two day scientific conference in Wales
 

SIG is delighted to support our colleague Dr Ken Hughes, of south Wales, President of the  BDA CDS  Group, and conference organiser, who has assembled a varied programme of presentations  covering child, adolescent and adult oral and dental care.
 'What's new in Community Dentistry'
International Convention Centre
Newport,Wales
Thursday 5th and Friday 6th October 2023
We recommend this course -day 1 , day 2 or both as per your clinical  interests !
Poster Competition  –
Closing Date 14th August 2023
Full details  of the BDA CDS group poster competition and entry requirement documentation   are below, with links to full criteria  and application form
SIG will be offering  an additional prize of £100  for a Wales-based, SCD- themed  poster entry ,in the same classes as the CDS competition ,   which will be judged and awarded in addition to any CDS Group prizes.
_________________________________-
(from the BDA  CDS Group event page):
Classes
There are 2 classes which will be judged separately:
1. Clinical Case Poster 
All members of the dental team working within a salaried primary care dental service (SPCDS) including trainees* are invited to present a poster of a clinical case they have managed within the last three years in the SPCDS
2. Service Poster
All members of the dental team working within a SPCDS including trainees*, are invited to submit a poster (as an individual or as a group) to demonstrate a service initiative, clinical audit or implementation of good practice that has resulted in a service improvement. 
* All postgraduate trainees who are currently working in salaried primary care dental services (SPCDS) or those who have completed a training post within the SPCDS within the last three years are eligible to apply.
An application form and abstract should be submitted before the closing date of Monday 14 August 2023
*As our annual conference is in collaboration with SIG, All Wales Special Interest – Special Care Dentistry, who usually run their own poster competition we are delighted to let you know that a separate prize of £100 will be awarded to a Welsh poster entry which will be judged and awarded in addition to any CDS Group prizes. This additional award will be judged using SIG's own criteria and their decision is final with no involvement by CDS Group.*
–
===